2017 China International Consumer Electronics Expo will open in Qingdao
03 Nov,2022
---
- The diversification strategy opens up a new pattern of professional exhibitions
China International Consumer Electronics Expo (SINOCES), the only consumer electronics professional international expo approved by the State Council, will be held in Qingdao International Convention and Exhibition Center from September 22 to 25, 2017. China International Consumer Electronics Expo is sponsored by the Ministry of Commerce, the Ministry of Science and Technology and the Shandong Provincial Government, supported by the Ministry of Industry and Information Technology, and co-organized by the China Chamber of Commerce for Import and Export of Machinery and Electronic Products, the Chinese Institute of Electronics and the Qingdao Municipal People's Government. After more than ten years of hard work and development, relying on China's good economic environment, sound industrial policies and huge consumer market, SINOCES has developed into a new engine to promote the innovation and development of the consumer electronics industry. Winning and accelerating the development, innovation and upgrading of my country's consumer electronics industry has played an important role.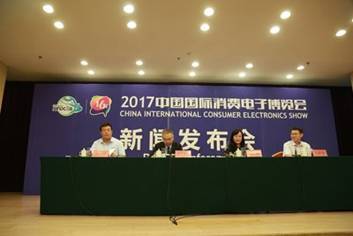 The 2017 China International Consumer Electronics Fair will open in Qingdao, and the diversification strategy will open a new pattern of professional exhibitions
Focusing on the theme of "Wisdom + Benefiting the World", this year's exhibition will drive industrial development and transformation with high-tech, promote industrial empowerment and upgrading with internationalization strategy, innovate and diversify the exhibition mode, and open a new pattern of professional exhibitions. There are six characteristic exhibition areas , involving eight categories of innovative technologies and products, with an exhibition area of ​​more than 30,000 square meters, more than 1,100 booths, nearly 200 exhibitors, more than 110 buyers from 17 countries and regions, and hundreds of government and enterprise executives and industry experts Will participate in the exhibition. 2017 SINOCES, based on the principle of extensive consultation, joint construction and shared benefits, strives to build a smart industry ecosystem and create a unique technological feast. Compared with previous exhibitions, this year's exhibition mainly has the following five "new" changes:
1. Following the trend of "Smart +", SINOCES leads the new wave of innovative achievements
With the deep integration of "smart+" and high-tech such as smart manufacturing, Internet of Things, cloud computing, and big data, the smart industry has become a "power industry" for the economic development of the country and cities, covering all aspects of the national economy: such as smart homes, Smart cities, smart logistics, smart factories, etc. 2017 SINOCES accurately grasps this trend, brings together smart technologies and talents from the global consumer electronics industry, and is committed to creating an industry feast dominated by "wisdom" to help the wider benefit and application of smart industries.
In order to fully demonstrate the new scientific and technological achievements brought about by "Smart +", this exhibition specially set up "Smart Home", "Smart Security", "Virtual Reality and Smart Hardware", "Smart Robot", "3D Printing" and "E-sports" " and other "smart" characteristic exhibition areas, involving eight categories of innovative products and technologies, including drones and smart robots, smart homes, VR/AR/MR, artificial intelligence, smart hardware, 3D printing technology, mobile Internet, big data and cloud computing, The lineup is strong and full of highlights.
2. The first e-sports exhibition area, SINOCES incubates new formats of consumer electronics
At present, e-sports has formed a huge industrial scale in many countries and regions such as South Korea, the United States, and Europe, and occupies an important position in the national economy. my country has also promoted and supported e-sports as a key sports event. As an emerging independent industry in China, e-sports has attracted the follow-up of corporate capital such as Tencent, Ali, and LeTV. E-sports major, the future e-sports industry will have a lot of room for development.
According to market research firm Newzoo, the global e-sports market size will increase by 41.3% year-on-year to US$696 million in 2017, and the number of e-sports fans will increase by 50% to 286 million. In order to further promote the sound development of the e-sports industry and help the gradual improvement of e-sports events in various places, 2017 SINOCES set up an e-sports exhibition area for the first time, and invited well-known game manufacturers such as Tencent Games to participate in the exhibition. At the same time, the organizing committee cooperated with Tencent Games to jointly hold the Glory of Kings e-sports city competition at the e-expo for the first time. In addition, the Qingdao e-sports championship will also be held during the exhibition. At that time, a hearty subversive duel will witness the moment of glory.
3. Introducing multiple interactive activities, SINOCES creates a new experience of unique exhibitors
With the innovation and development of the consumer electronics industry, the products and application fields involved are also gradually expanding. 2017 SINOCES grasps the trend, continuously expands the exhibition scale, enriches the exhibition content, and introduces multiple interactive activities and content. The first "Hard Innovation Festival-2017 Electronic Expo Global Smart Hardware Project Selection" event was implemented in Qingdao. The event was jointly organized by the Electronic Expo and Hard Innovation, aiming to promote the incubation and supply of intelligent hardware with the help of the resource advantages gathered by the Electronic Expo. Chain optimization and channel acceleration.
In addition, the opening day of the Electric Expo on September 22 is "World Car-Free Day". In order to advocate green travel, 2017 SINOCES and Mobike launched the SINOCES activity by bicycle to encourage and attract users to participate in shared cycling and promote the return of bicycles. City. At the same time, there are also self-balancing vehicles, which symbolize green and low-carbon travel methods like shared bicycles. The staff put on a wonderful rodeo.
4. Upgrade 3D printing to compete on the same stage, SINOCES ignites a new engine of technological innovation
As a representative technology of the new round of industrial revolution, 3D printing occupies an extremely important position in "Made in China 2025". This year's exhibition continues to cooperate with China's largest 3D printing service platform Sandi Space-Time Group, integrate excellent resources of the platform, take advantage of the trend to expand the scale of the 3D printing festival, and upgrade it to an international event, inviting more than 10 global guests from the United States, Germany, China, etc. 3D printing authoritative experts and more than a hundred 3D printing companies at home and abroad gathered together to bring a feast of 3D printing technology to the audience.
There are specially designed 3D printing display area, 3D printing maker competition, 3D printing education and training, 3D printing fashion show, interactive display of 3D printing creative works and other sections, providing enterprises and 3D printing enthusiasts with diverse content and large scale trade platform and display space. During the event, the 5th China 3D Printing Excellent Brand Promotion Awards Ceremony will also be held at the same time, and ten awards will be set up to commend new products and technologies of outstanding 3D printing companies. In addition, a variety of heavyweight new products in the industry, such as Aitaoyi APP, Shanghai Digital Manufacturing Equipment, and Beijing Yanshan Petrochemical Products, will also make their global debut at the 3D Printing Festival, showcasing the latest technological application achievements, and igniting the "new engine" of development with technological innovation.
5. Focusing on the voice of international experts, SINOCES guides the new direction of industry development
In order to build the highest intelligent platform for technology exchanges and industrial communication for consumer electronics companies, 2017 SINOCES will also hold a number of high-quality professional conferences and forums such as the 2017 China Qingdao International Big Data Summit Forum and the International IM3D Printing Summit Forum to strengthen industry exchanges and conduct in-depth discussions The latest trends and developments in the industry. China Qingdao International Big Data Summit Forum is held based on the fact that big data has become the most concerned hot factor in the information technology industry after the Internet of Things and cloud computing, to promote the healthy and sustainable development of the big data industry and the rapid expansion of the market. The International IM3D Printing Summit Forum is based on the 3D Printing Festival, inviting more than a dozen well-known experts at home and abroad to analyze and interpret the global 3D printing market, and discuss the application and development of 3D printing in various industries. Experts and scholars from well-known Chinese universities and research institutes will , representatives of enterprises inside and outside the province will also participate in the meeting, and conduct in-depth discussions and exchanges, which provides a good opportunity for further deepening exchanges and cooperation among all parties and realizing mutual benefit.
In order to further implement the innovation-driven development strategy, the "2017 Sixth China International Consumer Electronics Leader Innovation Achievement Conference" will also be held as scheduled. Different from previous years, this year's award setting has added a technology application award to encourage the innovative development of products in the field of big data and cloud computing applications. The competition in the field of consumer electronics is becoming increasingly fierce. In order to seize the market, various innovative products are blooming. This year's "Leader Innovation Award" has nearly 220 products from 75 well-known domestic and foreign brands participating in the award application. Except Samsung, Haier, Hisense, Canon, TCL, Aucma, Xiaomi, 360 and other traditional home appliances and digital hardware enterprises Enterprises such as VR equipment, 3D printing, intelligent Internet of Things, and health care have also joined the competition. The "Leader Innovation Award" comprehensively showcases innovative products and technologies leading the market and industry trends in the field of consumer electronics, and truly makes consumers feel the smart changes brought about by innovation. On the afternoon of September 23, the China International Consumer Electronics Leader Innovation Award Achievement Conference will be held at the Qingdao International Convention and Exhibition Center, and awards will be presented to the winning companies on the spot.
From a follower in the consumer electronics industry to a leader in innovative technology, after years of professional operation, the Electronic Expo has become extremely inclusive and growth-oriented. The exhibition is committed to creating an international smart industry ecosystem that integrates the functions of leading the development of the consumer electronics industry, innovative technology applications, and global market development. Combining the new trends and new features of the consumer electronics industry, it comprehensively displays the most cutting-edge smart products and While innovating technology, it will also deeply discuss the future development direction and prospects of the industry, giving new momentum to the development of the global consumer electronics industry. (This article is reproduced from China Power Grid)